---

COVID-19 UPDATE EFFECTIVE FRIDAY NOVEMBER 13
Home Style Laundry & Dry Cleaners will be implementing the following guidelines for customers until further notice:
FACE MASKS ARE REQUIRED TO BE WORN BY ALL CUSTOMERS WHILE IN THE STORE – NO EXCEPTIONS
We are asking customers to wait in their cars while laundry is washing/drying.
Please be considerate of others and empty machines once your loads are done.
Please use Social Distancing when possible.
Please use our FasCard System or Credit/Debit card if able to.
NO CONTACT DROP OFF SERVICE will be available to any one that wishes to use it.  Call us 712.322.6668
These measures are being taken to ensure that we remain open for all customers.
---
WE ARE OPEN! 7 Days a Week.
Self Service 7:30 am – 9 pm
Last load in by 7:30 pm
Doors lock at 9:00 pm
Customer Service Counter hours are:
Monday – Saturday 7:30 am – 9:00 pm
Sunday – Closed
---
Notes on Dry Cleaning:
DUE TO COVID-19, DRY CLEANING SCHEDULES MAY VARY.  CONTACT US AT 712-322-6668 TO VERIFY BEFORE PLACING AN ORDER.
Dry Cleaning is processed using a temporary limited schedule.
Drop off by 9 am Monday and receive back Tuesday afternoon.
Drop off by 9 am Tuesday and receive back Thursday afternoon.
Drop off by 9 am Wednesday and receive back Friday afternoon
Drop off by 9 am Thursday and receive back Friday afternoon.
Drop off by 9 am Friday/Saturday/Sunday and receive back Tuesday afternoon
Please utilize the dry cleaning bag issued – IT'S REQUIRED!
---
---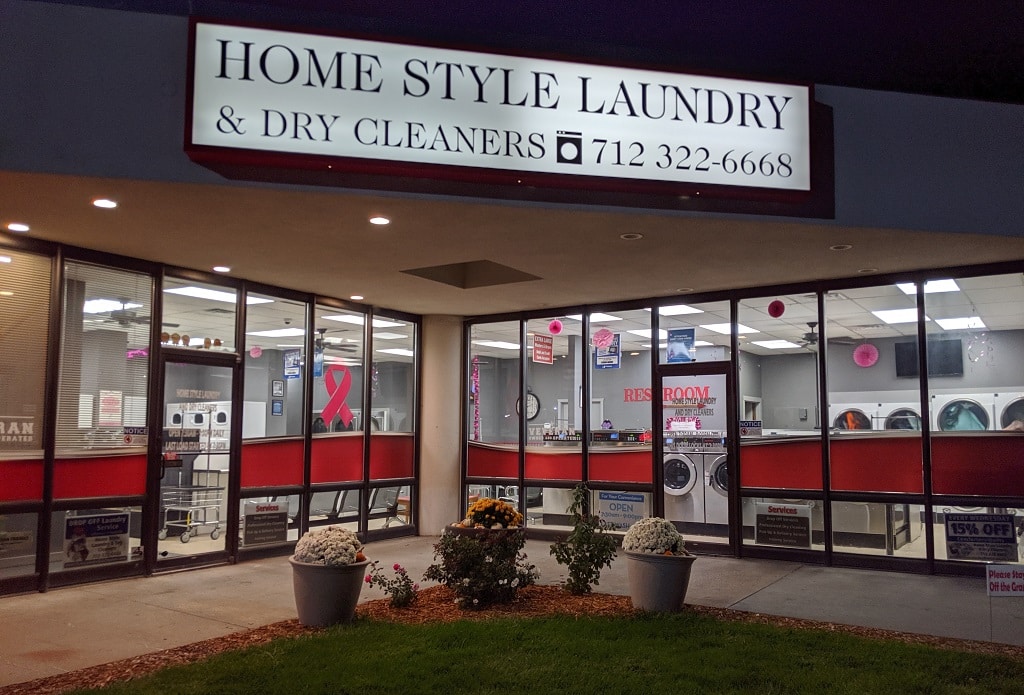 Home Style Laundry & Dry Cleaners – A veteran-owned and operated laundromat in Council Bluffs, IA. We have been in the laundry service industry for more than 30 years.
Featured Services:
Home Style Laundry and Dry Cleaners is a recipient of numerous awards in the service sector that continually provides excellent and dedicated service for your laundry needs throughout the Council Bluffs and Omaha areas.  Our services feature Drop-off Wash and Fold for residential and commercial accounts, a Self-Service Facility, Dry Cleaning, along with our Pick up & Delivery Service.
You can trust us to provide you with:
Well-trained staff and laundry attendants.
Just like family — we handle and treat your clothes, delicates and precious silks just like mom!
Safe and environmentally friendly detergents and dry-cleaning products are used.
Neat, Clean, Delivered.
Who Are Home Style Laundry Customers?
Actually, the answer is quite simple…anyone or any place that has laundry that needs to be cleaned. Home Style Laundry prides itself upon speedy, reliable and quality wash, dry and fold services for professional organizations and individuals.
Our clientele consists of your neighbors, teachers, doctors, chiropractors, physical and massage therapists, attorneys, major retailers, international entertainers and their crew.  Regardless of the type of account, Home Style Laundry Delivery Service will PICK UP AND DELIVER your laundry right to your door. Combined with your water, electric and detergent savings (not to mention your time) our services "PAYS FOR ITSELF".
Whether you are dropping off your laundry for us to wash and fold, using our self-service facility or trying out our pick up & delivery service you get the same great service from Home Style Laundry & Dry Cleaners. Our professional and friendly attendants will assist you with all your laundry needs.