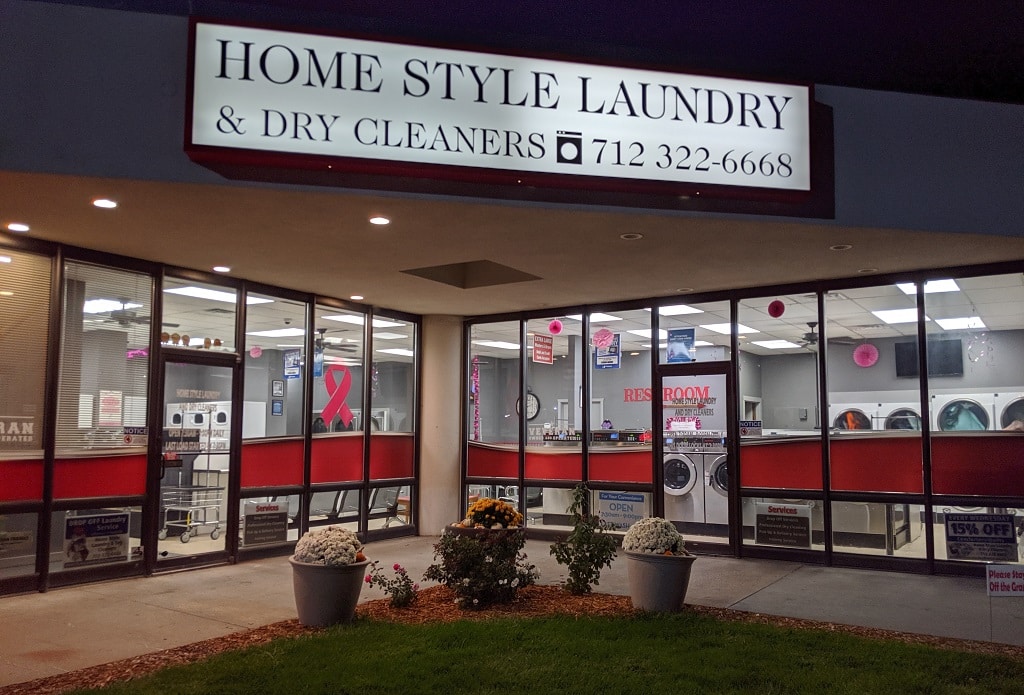 Home Style Laundry & Dry Cleaners – A veteran-owned and operated laundromat in Council Bluffs, IA. We have been in the laundry service industry for more than 30 years.
Home Style Laundry & Dry Cleaners is a recipient of numerous awards in the service sector that continually provides excellent and dedicated service for your laundry needs throughout the Council Bluffs and Omaha areas. Our services feature Drop-off Wash and Fold for residential and commercial accounts, a Self-Service Facility, Dry Cleaning, Pick Up & Delivery service and Secure Smart Lockers.
We are:
Well-trained staff and laundry attendants.
Just like family – we handle and treat your clothes, delicates and precious silks just like mom!
Proud to provide neat, clean, delivered products.
Notes on Dry Cleaning
Due to COVID-19, Dry Cleaning schedules may vary. The current schedule is listed below:
Please utilize the dry cleaning bag issued – It's Required!
Drop off by 9 am Monday and receive back Tuesday after 2pm
Drop off by 9 am Tuesday and receive back Thursday after 2pm
Drop off by 9 am Wednesday/Thursday and receive back Friday after 2pm
Drop off by 9 am Friday/Saturday/Sunday and receive back Tuesday after 2pm
In the event our Customer Service Counter is closed, please use our Secure Smart Lockers.
Who Are Home Style Laundry Customers?
Actually, the answer is quite simple…anyone or any place that has laundry that needs to be cleaned. Home Style Laundry prides itself upon speedy, reliable and quality wash, dry, and fold services for professional organizations and individuals.
Our clientele consists of your neighbors, teachers, doctors, chiropractors, physical and massage therapists, attorneys, major retailers, international entertainers and their crew. Regardless of the type of account, Home Style Laundry Delivery Service will Pick Up & Deliver your laundry right to your door. Combined with your water, electricity and detergent savings (not to mention your time) our services "pays for itself".
Whether you are dropping off your laundry for us to wash and fold, using our Self-Service facility, trying out our Pick Up & Delivery service or using our Secure Smart Lockers you get the same great value from Home Style Laundry & Dry Cleaners. Our professional and friendly attendants will assist you with all your laundry needs.